SPECIALTY PROGRAMS
Specialty Programs
Specialty aquatic programs are already underway at the Aquatic Center at Mylan Park. These programs provide alternatives to traditional lap swimming and allow members and guests to explore the wide option of water-based activities.  These programs can be registered throughout the online portal and will be offered year-round as available by skilled area instructors.
The facility is planning future aquatic programs such as kayaking, water polo, synchronized swimming, and more.  If you or someone you know has an interest or skill and would like to provide these types of programs, please contact us today!
LOG IN TO OUR USER PORTAL TO REGISTER
To register for Personal Training and other Specialty Courses, log in to our user portal and go to "Group Activities"
We've updated our user portal:
If you normally pay online or have registered for classes in the past, try using your old login information. You may need to reset your password. 
You can confirm if you have an account and reset your password by following the steps below…
 

Click the button to be led to our new welcome screen.
Select "Access My Account" located at the top right of the screen.
Fill out the requested information and hit submit
If you see a red notification reading "You've already registered" select "login" at the top right of the screen
Select "Forgot Password" and follow the steps to reset your password.
To register for Swim Lessons, Summer Camps, Safety Training Courses, and Parent's Night Off log in to our user portal and go to "Register for Classes"
To register for Personal Training, Water Aerobics, Adult / Master Swim League, Yoga, and F45 log in to our user portal and go to "Group Activities"
If you need further assistance please reach out to us at (304) 933 – AQUA [2782]
Mermaid Mingle
Twice a month in the Community Pool or Dive Well
FREE for Members & $5 for Non-Members • Bringing your own tail is encouraged!
Calling all mermaids & mermen! If you are a mermaid with a fancy tail, a budding mermaid, or just have a calling to the water's edge, come join us at the pool at The Aquatics Center. We're hosting monthly mermaid pod meets in the Huntington© Community Pool and the Diving Pool for our more experienced merfolk! Join us as we meet and mingle with our community, learn new tricks, and offer tips to those who are wanting to become a merperson.
Upcoming Dates:
Friday, August 4th, 7:00 pm-9:00 pm Diving Well/pool
Monday, August 21st, 7:00 pm- 8:00 pm Huntington Community Pool
Friday, September 15th, 7:00 pm- 9:00 pm Diving Well/pool
Monday, September 18th, 7:00 pm- 8:00 pm Huntington Community Pool
Monday, October 9th, 7:00 pm-8:00 pm Huntington Community Pool
Friday, October 20th, 7:00 pm-9:00 pm Diving Well/pool
Monday, Oct 23
Friday, Nov 10
Monday, Nov 13
Monday, Nov 20
Friday, Dec 1
Friday, Dec 22
Mermaid Mingle pool location is subject to change.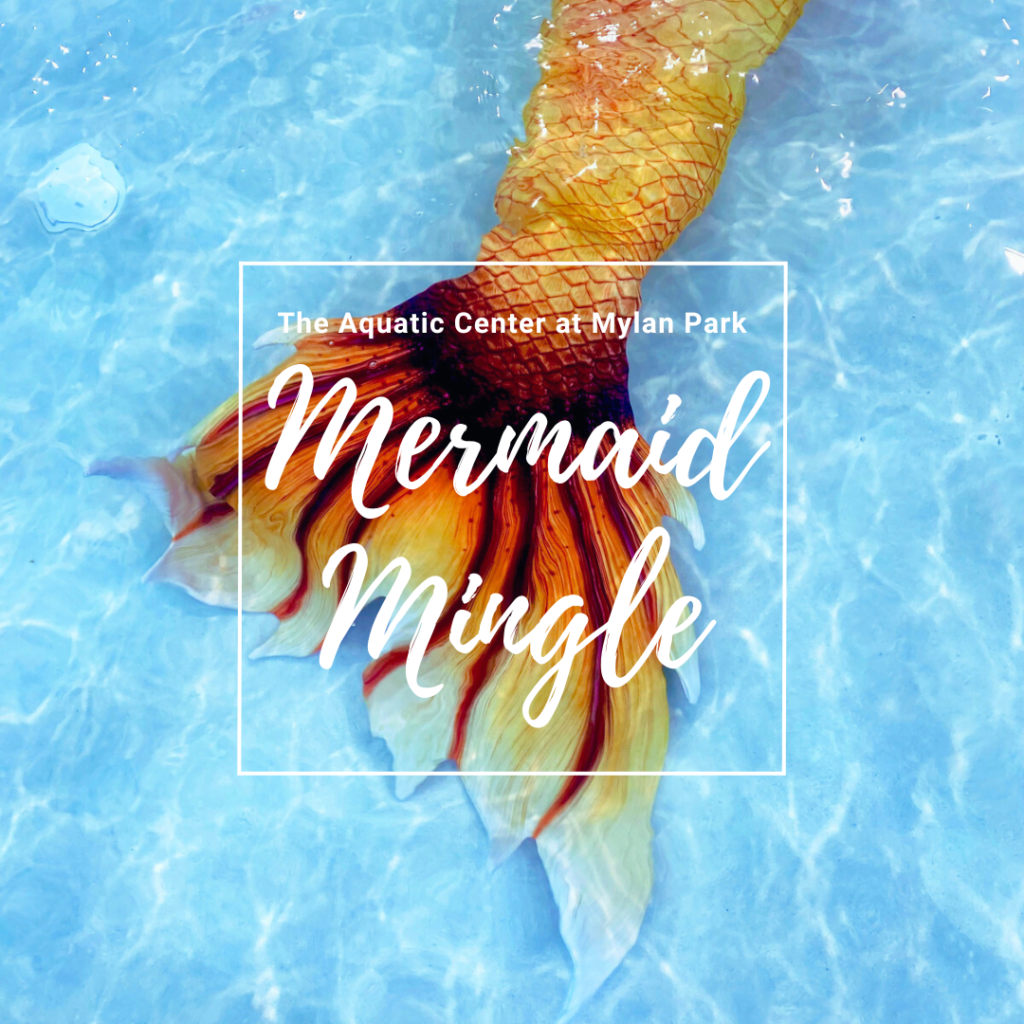 CALL (304) 933 – AQUA for more information!
Paddleboard Yoga
Sundays from 9 a.m. – 10 a.m.
Mondays from 8 – 9 p.m.
$25 for non-members & $20 for members (ages 18+)
Stand Up Paddleboarding (SUP) Yoga is a fun activity you can learn inside at the Mylan Aquatic Center and then take outside when summer hits!
The tranquility of floating on water and the meditative nature of yoga are in natural harmony during SUP Yoga. Enjoy low-impact muscle toning while moving and breathing mindfully through yoga poses on the board.
Our SUP Yoga classes are taught by qualified yoga instructors who provide a brief introduction to SUP and water safety, with the majority of the class spent practicing yoga. Asana poses are introduced gently with modifications tailored to the student's experience level and comfort zone.
Practicing yoga on a SUP board encourages focus and being fully present in the moment. SUP Yoga is a great full-body core workout and best of all, it's perfect for people of all ages, body types, and skill levels.
Reserve your board and schedule some peaceful play today!
To Dive For Courses 
New session begins every 2 months. Check the program portal by clicking the "Register Now" button for specific class times and dates.
Participants of any of the courses below MUST be able to swim the length of the pool (25 yards) and be comfortable in deep water and be able to tread water at least 30 seconds.
Beginning Diving (6-12 year olds): 
This beginner course introduces students to diving from the side and basic springboard diving techniques.
Intermediate Diving (8-14 year olds):
Participants should have taken beginning diving or have comparable skills, specifically the ability to perform front dive from the one meter board successfully.
Advanced Diving (10-18 year olds):
Participants should have taken intermediate diving or have comparable skills, specifically the ability to complete front and back dives, as well as front and backflips or, have permission from the dive instructor.
Adult Diving (18+): 
This class encompasses many different diving levels and is taught by a coach who can provide practice and development to each different level from Beginner to Advanced.
Scuba Dive Training
Ongoing – Click Here for Dates & Availability
$650 per person (ages 10+)
Includes 12 hours of training over 4 weeks at The Aquatic Center.
Students need to provide mask, fins and snorkel (discounted equipment packages available thru J&S Dive); all other equipment provided.
Students will be certified once completing this course and will learn to safely interact and explore the underwater world.
Once certified, you will have the ability to dive at locations all over the world (within your current level of training).
New enrollments available every 5 weeks. Limited class sizes.
For more information or to purchase classes online, go to jsdivetraining.com, or call 866-224-3483.