MON SWIM STARS
Mon Swim Stars Sponsored By Mon Health
The Aquatic Center in partnership with Mon Health offers FREE trial swim lessons to orient new parents and children. Open to all, participants may register once per year only.  At the end of the course you will receive a certificate and information about our class program and a recommendation for a course to take.
Classes are offered to the following groups:
– Children under 4 with parent
– Children ages 3-5 years old
– Youth ages 6-12 years old
Interested or want to learn more feel free to contact us!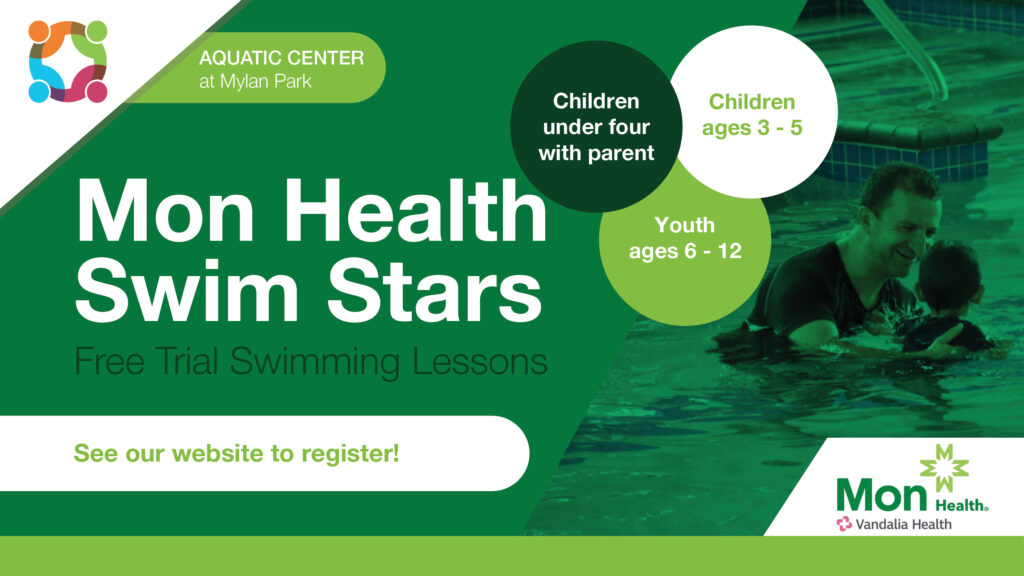 LOG IN TO OUR USER PORTAL TO REGISTER
To register for Swim Lessons, Summer Camps, Safety Training Courses, and Parent's Night Off log in to our user portal and go to "Register for Classes"
We've updated our user portal:
If you normally pay online or have registered for classes in the past, try using your old login information. You may need to reset your password. 
You can confirm if you have an account and reset your password by following the steps below…
 

Click the button to be led to our new welcome screen.
Select "Access My Account" located at the top right of the screen.
Fill out the requested information and hit submit
If you see a red notification reading "You've already registered" select "login" at the top right of the screen
Select "Forgot Password" and follow the steps to reset your password.
To register for Swim Lessons, Summer Camps, Safety Training Courses, and Parent's Night Off log in to our user portal and go to "Register for Classes"
To register for Personal Training, Water Aerobics, Adult / Master Swim League, Yoga, and F45 log in to our user portal and go to "Group Activities"
If you need further assistance please reach out to us at (304) 933 – AQUA [2782]