Over the past 20 years, Mylan Park has grown from four baseball and softball fields into a full-service sports, recreation, wellness and events complex spanning across 400 beautiful acres. Mylan Park is also proud to be home to a variety of social, training and educational organizations operating within the park footprint and serving the greater Morgantown community daily through their non-profit and service-oriented missions.
Today Mylan Park is recognized as one of West Virginia's most dynamic venues for users and events of all walks. Owned and operated by the non-profit 501c3 Mylan Park Foundation, Mylan Park now offers 14 different indoor and outdoor facilities comprising of over 60 acres of athletic field space and more than 180,000 sq. ft. of indoor sport, recreation and event venues.  Each unique component of the park serves to ensure that there is something for everyone and that Mylan Park is truly a place the entire community can enjoy.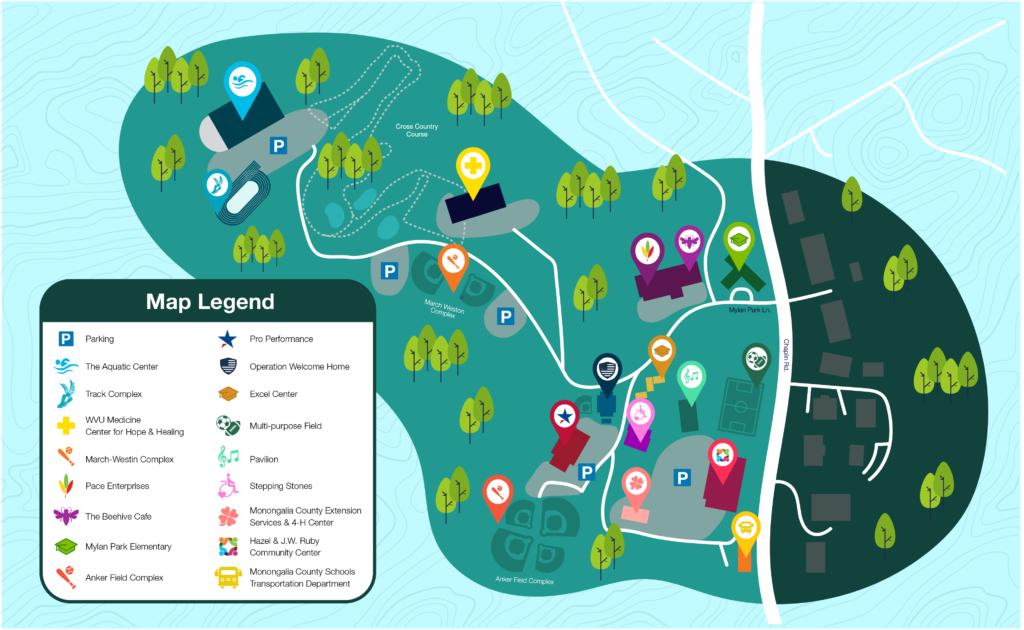 MISSION
The Mylan Park Foundation, Inc. advances the educational, recreational, social and economic benefits to North Central West Virginia citizens, with the purpose of improving the quality of life for residents of, and visitors to, the Greater Morgantown area.
VISION STATEMENT
Mylan Park is recognized as one of the nation's premier full-service recreation, sport, social, health and wellness complexes. We will support the well-being of the residents of Monongalia and surrounding counties by providing high quality and award-winning programs, facilities, and services. We will serve this need through innovate, entrepreneurial, fiscally responsible, and sustainable practices while still expanding inclusive recreational facilities and programs in the community. Our programs, facilities, and services will be recognized and utilized as having significant positive economic benefits to the communities we serve.
VALUES
Accessibility – Economic & Community Development – Promoting Healthy Lifestyles – Customer Service – Excellence in Facilities & Programs – Innovation – Sustainability