COVID-19 RESOURCE PAGE
The staff at The Aquatic Center & Track Complex at Mylan Park have been monitoring the COVID-19 pandemic and continually assessing local and state guidance to appropriately respond for the safety of our community.  We will be updating this page to keep you informed of any modifications to operations per the state guideline requirements. We are excited to continue serving the community while ensuring that it remains a safe place for our guests, members, and staff.
JOIN OUR MAILING LIST
WV GUIDELINES & RESOURCE PAGE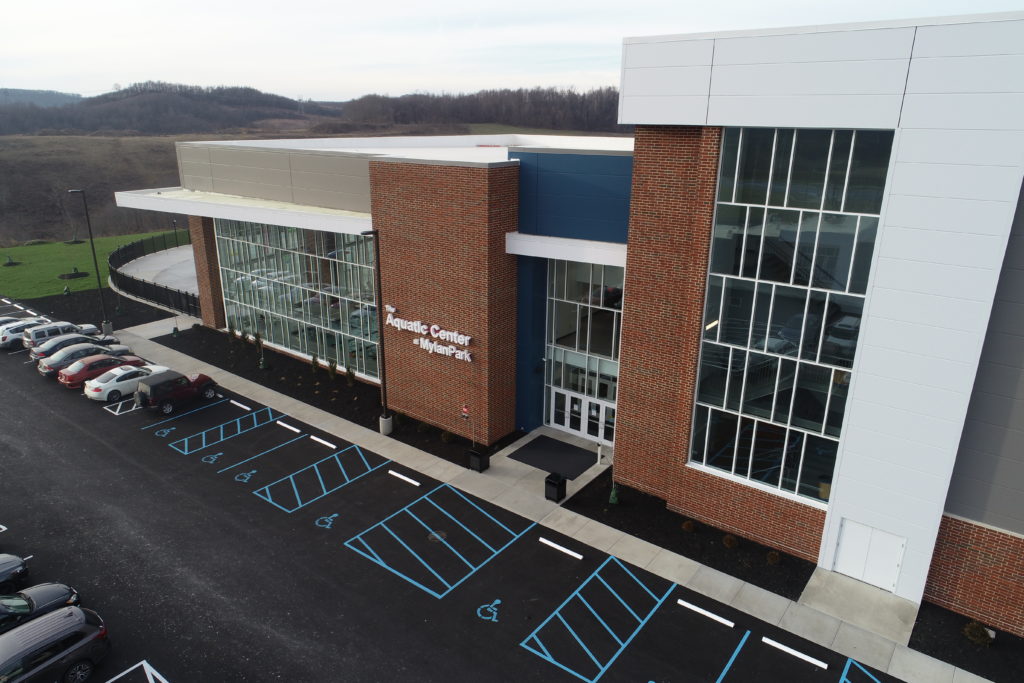 We've taken the Mountaineer Country Commitment to Safety Pledge. This seal represents our commitment to higher safety standards for employees and customers in the fight against the spread of COVID-19. Learn more about the Mountaineer Country Commitment to Safety by visiting online.
Covid-19 Guidelines & Policy Updates
Mask Policy Update: Effective May 21, 2021
"On Friday, May 14, 2021, Gov. Justice signed an Executive Order to immediately modify West Virginia's face covering requirement to follow the updated CDC guidance for fully vaccinated West Virginians.
The Statewide Indoor Face Covering Requirement is still in effect for all West Virginians who are not yet fully vaccinated and will remain in effect for these individuals until June 20, 2021."
We are asking that our guests & members self-regulate and continue to wear a facial covering if they have not received the vaccine. Individuals who are not vaccinated should continue to wear a facial covering throughout the building unless actively participating in a physical activity, in the water, or eating at one of the designated eating areas.
We ask that all of our guests & members continue to practice social distancing throughout the facility.
Thank you!
Self-Assessment Guide: If you are exhibiting any symptoms please stay home.
Do you have any of these symptoms that are not caused by another condition?
Fever or chills
Cough
 Shortness of breath or difficulty breathing
Fatigue
Muscle or body aches
Headache
Recent loss of taste or smell
 Sore throat
Congestion
Nausea or vomiting
Diarrhea
Within the past 14 days, have you been in close contact with anyone that you know had COVID-19 or COVID-like symptoms? Close contact is being within 6 feet for 15 minutes or more over a 24-hour period with a person; or having direct contact with fluids from a person with COVID-19 with or without wearing a mask (i.e., being coughed or sneezed on).
Have you had a positive COVID-19 test for active virus in the past 10 days, or are you awaiting results of a COVID-19 test?
Within the past 14 days, has a public health or medical professional told you to self-monitor, self-isolate, or self-quarantine because of concerns about COVID-19 infection?
If the answer to any of the questions above is YES please refrain from visiting our facility at this time.
CLICK HERE to utilize the CDC's Self Checker tool.
Complimentary Towel Service & Lockers
Complimentary Towel Service:
Our complimentary towel service is back. Members are able to go up to our front desk and request a towel – free of charge. Towels returns are available in each of the locker rooms.
Lockers:
Daily use lockers are available once again. Members are able to rent monthly lockers as well. Please wipe down the lockers when you are finished using them.
Social Distancing
We ask that our guests and members still practice social distancing throughout the facility, this also includes the pools when possible.