PROGRAMS & SERVICES
In addition to membership and guest use, Mylan Park is proud to offer top notch aquatic programs from skilled professional staff. The Learn to Swim program will teach basis water safety and swimming skills to children and adults.  Parent and child, preschool, youth and teen/adult group lessons will be scheduled 7 days a week in the Community Pool, and when available in the competition pool. The facility will offer Aqua Exercise programs on a drop-in basis in both pools when available. Specialty aquatic programs such as Scuba, diving, kayaking and more are available now or coming soon. This facility will provide Aquatic Safety Training, including Lifeguarding, CPR/First Aid, are also available.
REGISTER NOW
The Aquatic Center at Mylan Park is proud to partner with the American Red Cross to provide water safety and learn to swim for all ages. These classes are available to members and guests of the facility.  Click the links below to see what is available for each age group.
Parent and child classes from 6 months to 4 years with a parent
Preschool classes from 3 years to 6 years
Youth classes from 6 year to 12 years
Teen/Adult classes from 13 years-Adult
Register online or in person at the Aquatic Center Welcome Desk.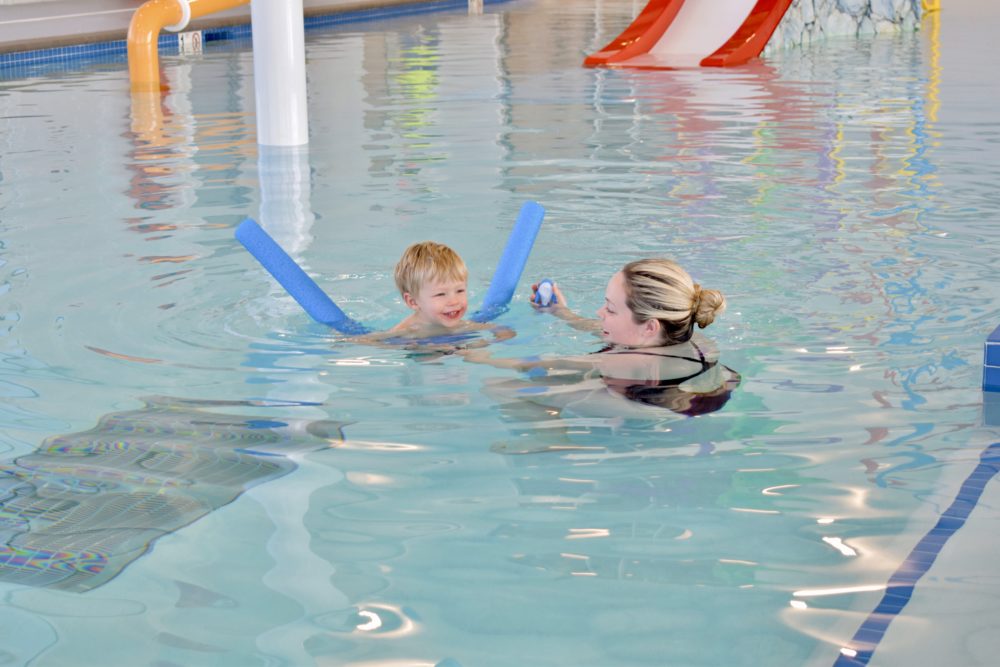 The Aquatic Center at Mylan Park is proud to partner with University of Wellness to offer Water exercise classes for members and guests. Passes for these classes are available to purchase in person. As we grow we will continue to add more programs on a weekly basis to suit the needs of our members and guests. Below are the pass options and current classes offered starting Nov. 4.
| | | |
| --- | --- | --- |
| Pass Options | Member | Non-Member |
| 1 Class | $15 | $16.50 |
| 10-Class Pass | $130 | $143 |
| 20-Class Pass | $200 | $220 |
Aqua Interval Class – Monday & Wednesday from 11-11:50 a.m.
This aquatic fitness class is great for a full body workout! It focuses on aerobics endurance, resistance exercise, and flexibility/balance. This class is held in the deep water to ensure low impact on joints. All skill levels are welcome!  Participants must be comfortable in deep water. Flotation belts are provided.
Work one-on-one with a qualified swim instructor during our private or semi-private swim lessons. Lessons are tailored to meet your individual needs, teach you how to swim or refine your skills. Swimmers of all levels, ages and abilities can sign up – it's never too late to learn how to swim. Lessons are 30- or 60-minutes in length and are scheduled on the availability of the swimmer, instructor and pool time. Have a relative or friend of similar age and ability? Semi-private lessons are perfect for 2 persons of similar age and/or ability, at the discretion of the instructor.
To purchase swim lessons, stop by the Welcome Desk. 6 Session private swim lesson packages can be shared with multiple people in household. Please note – semi-private lessons require each swimmer purchase a package to participate and are not allowed to be shared with other swimmers.
| | | |
| --- | --- | --- |
| Packages | Member | Non-Member |
| 1 Session – 30-Minutes | $30 | $33 |
| 6 Sessions – 30-Minutes | $180 | $198 |
| 1 Session – 60-Minutes | $55 | $60.50 |
| 6 Sessions – 60-Minutes | $330 | $363 |
| | | |
| --- | --- | --- |
| Packages | Member | Non-Member |
| 1 Session – 30-Minutes | $22.50 | $24.75 |
| 6 Sessions – 30-Minutes | $135 | $148.50 |
| 1 Session – 60-Minutes | $40 | $44 |
| 6 Sessions – 60-Minutes | $240 | $264 |
Lifeguard Training
The purpose of the American Red Cross Lifeguard course is to provide entry-level lifeguard participants with the knowledge and skills to prevent, recognize and respond to aquatic emergencies and to provide care for breathing and cardiac emergencies, injuries and sudden illnesses until emergency medical services (EMS) personnel take over.
All courses are listed online and available for registration.  Register Now!
Prerequisites:
-Must be 15 years old on or before the final scheduled session of this course.
-Swim 300 yards continuously demonstrating breath control and rhythmic breathing. Candidates may swim using the front crawl (freestyle), breaststroke or a combination of both, but swimming on the back or side is not allowed. Swim goggles may be used.
-Tread water for 2 minutes using only the legs. Candidates should place their hands under the armpits.
-Complete a timed event within 1 minute, 40 seconds:
-Starting in the water, swim 20 yards. The face may be in or out of the water. Swim goggles are not allowed.
-Surface dive, feet first or head first, to a depth of 7 to 10 feet to retrieve a 10-pound object.
-Return to the surface and swim 20 yards on the back to return to the starting point with both hands holding the object and keeping the face at or near the surface so you are able to get a breath. Candidates should not swim the distance under water. Exit the water without using a ladder or steps.
Open Water Scuba Diving Course
Going on a vacation to a warm location and have a passion for swimming, or exploring the world underwater? Or maybe you are just looking for a new skill or hobby. Participants in this course will gain the knowledge and skills needed to successfully certify as Open Water Scuba Diver. All courses held at Mylan Park, except the final certification. See additional details below. Participants must be able to swim 200 yards (8 lengths of a standard 25 yard length pool) non-stop and float for 10 minutes.
Students will participate in the academic and confined water portions of an Open Water SCUBA program. A third portion is required for certification but cannot be completed at Mylan Park per training standards.
Academic work is provided through online eLearning and in-class lecture. Individuals without access to the internet can be given a hard copy book. Over a few units, students will learn about the underwater environment, physics and physiology of diving. diving equipment and dive planning.
Confined water portions of the course allow students to complete hands-on training with SCUBA. Pool session will allow for mastery of the following skills: surface procedures, self rescue, mask and regulator skills, buoyancy control, entry and exit procedures and environmental custodianship.
After the completion of the academic and confined water positions, students must complete two days of diving in an open water environment (lake, spring, quarry, ocean) to complete the certification. These dive days must occur within 12 months of their last day at Mylan Park. Students can choose to complete these fives with the instructor locally or in the fresh water springs of Florida. Students also have the ability to travel in or out of the country with an Open Water SCUBA diving instructor, through a referral. We do not include the fee for these dives in the course cost. They must be scheduled and completed by the participant.
Program Dates: March 4 – April 1, 2020
Tuesdays from 7-9 p.m.
Registration Closes: March 3, 2020
Members – $450
Non-Members – $495
Register Now for Scuba Diving online!
Diving Intro Clinic
Participants MUST be able to swim the length of the pool (25 yards) and be comfortable in deep water and be able to tread water at least 30 seconds. This beginner course introduces students to diving from the side and basic springboard diving techniques. This is a one day course which will introduce participants to diving and use of the diving boards, with aim to prepare them for future diving classes and the sport of competitive diving.
•Diving Safety
•Head First entry from side of pool
•Approach and Hurdle steps to begin dive
•Proper diving technique from one meter board
•Proper hand and arm and body placement for entry
Program Date: February 22, 2020
Saturday 11a-12pm
Registration Closes: February 21, 2020
Members – $10
Non-Members – $11
Register Now for Diving online!
Let's Have a Party! 
Host your next party at the Aquatic Center. Each party is 2 hours long which includes a party room for the entire time as well as the first hour of the event in the community pool.
Up to 20 participants. Parents/chaperones are free. Additional visit passes can be purchased for larger parties.
15 minutes provided for set-up and clean-up.
Member Price: $200
Non-Member Price: $250
All fees will be charged at the time of reservation.
Friday evening, Saturday and Sunday Times available
Please book at least 2 weeks prior to the requested date. Parties are booked on a first-come, first-serve basis – so call TODAY! For more information on hosting your next party at the Mylan Park Aquatic Center or to check available dates, call the Aquatic Center Welcome Desk at (304) 933-AQUA or email info@mylanpark.org.
Cancellation Information:
Parties must be cancelled at least one week in advance so the space can be made available for other parties.
If the party is cancelled within the required time frame, the party can be rescheduled for a later available date and use the deposit applied. No Refunds.
No credits or exchanges are available if cancellation is made within a week of the party date.
How it Works:
You may bring your own food and drinks to the party room.
Tables & chairs are included.
No food is permitted in the pool or surrounding areas.
A refrigerator is available for storing food if needed and is available only during the rental time.
The party room may be decorated with any non-permanent fixtures.
Party is required to vacate at the conclusion.
There will be 15 minutes allotted at the beginning of the party for set-up and at the end for allow time to properly dispose of all trash and return the room to its pre-party condition.
Alcohol is strictly prohibited.
Parents and participants should be aware of all pool rules before entering the pool area.
Children under the age of 3 years old must be accompanied by an adult.
Children who are not yet toilet trained must wear a reusable or disposable diaper; no regular diapers are permitted in the pool.