PROGRAMS & SERVICES
In addition to membership and guest use, Mylan Park is proud to offer top notch programs from skilled professional staff. The Learn to Swim program will teach basis water safety and swimming skills to children and adults.  Parent and child, preschool, youth and teen/adult group lessons will be scheduled 7 days a week in the Community Pool, and when available in the competition pool. The facility will offer Aqua Exercise programs on a drop-in basis in both pools when available. Specialty programs of Scuba are planned this fall and others such as diving, kayaking and more are planned at this facility in the future. This facility will also provide Safety Training, including Lifeguarding, CPR/First Aid, and others are planned in the coming months.
REGISTER NOW
The Aquatic Center at Mylan Park is proud to partner with the American Red Cross to provide water safety and learn to swim for all ages. These classes are available to members and guests of the facility.  Click the links below to see what is available for each age group.
Register online or in person at the Aquatic Center Welcome Desk.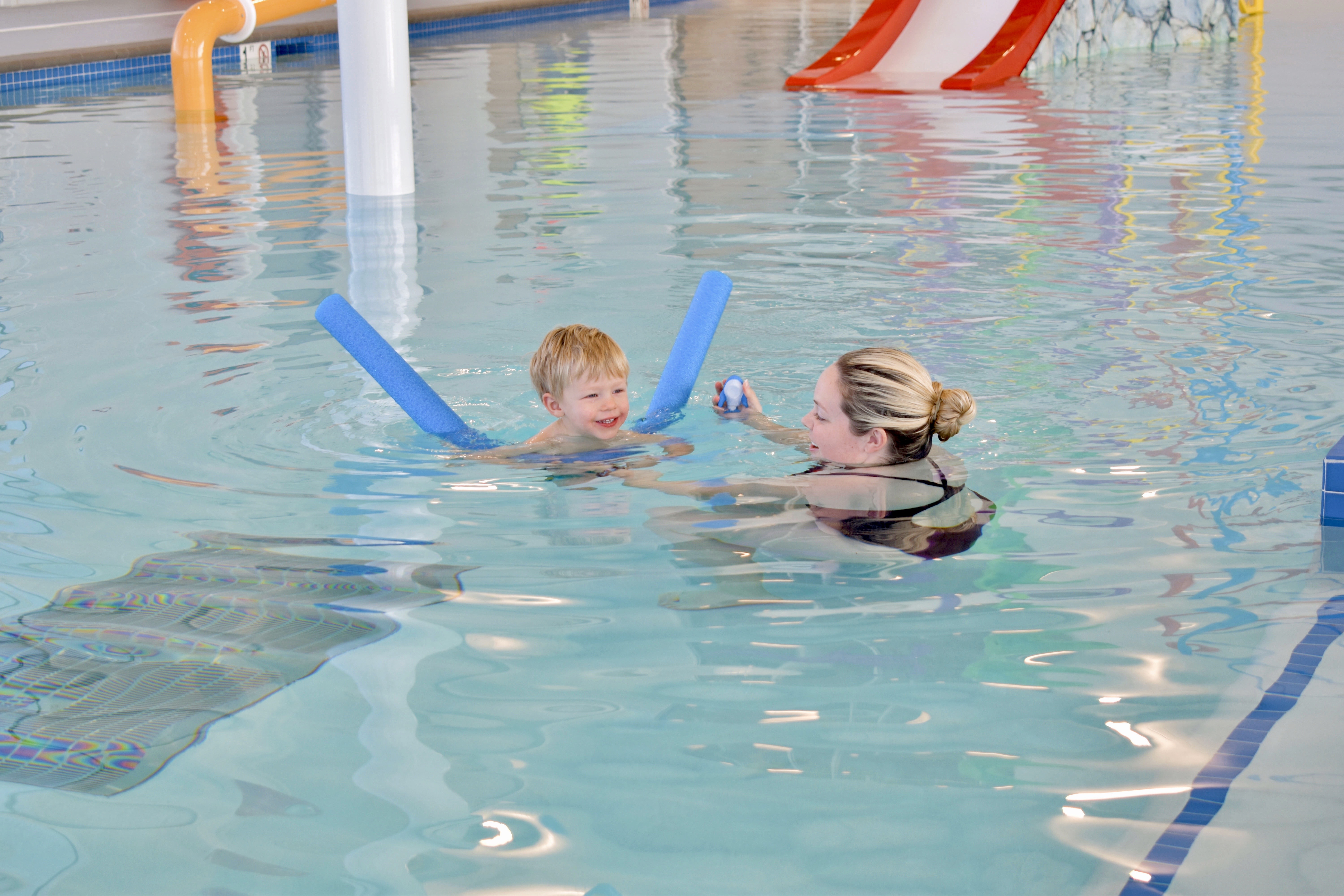 The Aquatic Center at Mylan Park is proud to partner with University of Wellness to offer Water exercise classes for members and guests. Passes for these classes are available to purchase in person. As we grow we will continue to add more programs on a weekly basis to suit the needs of our members and guests. Below are the pass options and current classes offered starting Nov. 4.
| | | |
| --- | --- | --- |
| Pass Options | Member | Non-Member |
| 1 Class | $15 | $16.50 |
| 10-Class Pass | $130 | $143 |
| 20-Class Pass | $200 | $220 |
Basic Pool Aerobics – Monday from 6-6:50 p.m.
This fun water class is focused on cardiovascular benefits using an assortment of movements. Participants will use a variety of effective low impact exercise to gets heart rate up and use the natural resistance of water. The class will also allow participants tone and stretch body muscles. This is a shallow water course.
Aqua Interval Class – Monday & Wednesday from 7-7:50 p.m.
Break a sweat in water with this High Intensity Interval Training program. Participants from any fitness level, with a wide range of strength-building goals, can benefit from this twist on classic intervals. This class takes place in the natural mass of the water, which also provides support and stability. It also includes deep-water running and all the tools your body needs to get fitter, stronger, and leaner in this resistance and cardio combo. Participants must be comfortable in deep water.
Aqua Yoga – Wednesday from 6-6:50 p.m.
The benefits of yoga are numerous, as are the attributes of swimming and pool exercise. If you put them both together, you've got a multifaceted class that truly encompasses all aspects of body, mind, mood, energy, and spirit! Take your regular yoga practice into a setting that flows with the natural resistance from the water. Different types of balancing and stretching promote long, lean lines of the body. Progressively work on challenging yoga postures, while breath awareness, mobility, and stability are enhanced safely and effectively. All experienced within one of the most calming situations – an essential meditative element – water. This is a shallow water course.
Work one-on-one with a qualified swim instructor during our private or semi-private swim lessons. Lessons are tailored to meet your individual needs, teach you how to swim or refine your skills. Swimmers of all levels, ages and abilities can sign up – it's never too late to learn how to swim. Lessons are 30- or 60-minutes in length and are scheduled on the availability of the swimmer, instructor and pool time. Have a relative or friend of similar age and ability? Semi-private lessons are perfect for 2 persons of similar age and/or ability, at the discretion of the instructor.
To purchase swim lessons, stop by the Welcome Desk. 6 Session private swim lesson packages can be shared with multiple people in household. Please note – semi-private lessons require each swimmer purchase a package to participate and are not allowed to be shared with other swimmers.
| | | |
| --- | --- | --- |
| Packages | Member | Non-Member |
| 1 Session – 30-Minutes | $30 | $33 |
| 6 Sessions – 30-Minutes | $180 | $198 |
| 1 Session – 60-Minutes | $55 | $60.50 |
| 6 Sessions – 60-Minutes | $330 | $363 |
| | | |
| --- | --- | --- |
| Packages | Member | Non-Member |
| 1 Session – 30-Minutes | $22.50 | $24.75 |
| 6 Sessions – 30-Minutes | $135 | $148.50 |
| 1 Session – 60-Minutes | $40 | $44 |
| 6 Sessions – 60-Minutes | $240 | $264 |
Lifeguard Training
The purpose of the American Red Cross Lifeguard course is to provide entry-level lifeguard participants with the knowledge and skills to prevent, recognize and respond to aquatic emergencies and to provide care for breathing and cardiac emergencies, injuries and sudden illnesses until emergency medical services (EMS) personnel take over.
November Course Program Dates:
November 15 – 7-8 p.m.
November 16 – 8:30 a.m.-6:30 p.m.
November 17 -10 a.m.-8:30 p.m.
Registration Closes: November 9
Members – $50
Non-Members – $250
December Course Program Dates:
December 20 – 7-9 p.m.
December 21 – 8:30 a.m.-6:30 p.m.
December 22 -10:30 a.m.-8:30 p.m.
Registration Closes: November 9
Members – $50
Non-Members – $250
Prerequisites:
-Must be 15 years old on or before the final scheduled session of this course.
-Swim 300 yards continuously demonstrating breath control and rhythmic breathing. Candidates may swim using the front crawl (freestyle), breaststroke or a combination of both, but swimming on the back or side is not allowed. Swim goggles may be used.
-Tread water for 2 minutes using only the legs. Candidates should place their hands under the armpits.
-Complete a timed event within 1 minute, 40 seconds:
-Starting in the water, swim 20 yards. The face may be in or out of the water. Swim goggles are not allowed.
-Surface dive, feet first or head first, to a depth of 7 to 10 feet to retrieve a 10-pound object.
-Return to the surface and swim 20 yards on the back to return to the starting point with both hands holding the object and keeping the face at or near the surface so you are able to get a breath. Candidates should not swim the distance under water. Exit the water without using a ladder or steps.
PADI® Scuba Dive Certification Course
If you've always wanted to take scuba diving lessons, experience unparalleled adventure and see the world beneath the waves, this is where it starts. Get your scuba diving certification with the PADI® Open Water Diver course – the world's most popular and widely recognized scuba course. Millions of people have learned to scuba dive and gone on to discover the wonders of the aquatic world through this course. To enroll in a PADI Open Water Diver course (or Junior Open Water Diver course), you must be 10 years old or older. You need adequate swimming skills and need to be in good physical health. No prior experience with scuba diving is required. Students are required to have: PADI Open Water Student Package, Mask, Fins, Snorkel. (the cost of this package is $180.00) If student wishes to purchase a pair of boots to wear while diving an additional cost of between $40 and $80 depending on style preferred.
Program Dates: November 5-26
Tuesdays from 6-10 p.m.
Registration Closes: November 9
Members – $550
Non-Members – $605
Let's Have a Party! 
Host your next party at the Aquatic Center. Each party is 2 hours long which includes a party room for the entire time as well as the first hour of the event in the community pool.
Up to 20 participants. Parents/chaperones are free. Additional visit passes can be purchased for larger parties.
15 minutes provided for set-up and clean-up.
Member Price: $200
Non-Member Price: $250
All fees will be charged at the time of reservation.
Saturday/Sunday Available Times: 
Please book at least 2 weeks prior to the requested date. Parties are booked on a first-come, first-serve basis – so call TODAY! For more information on hosting your next party at the Mylan Park Aquatic Center or to check available dates, call the Aquatic Center Welcome Desk at (304) 933-AQUA or email info@mylanpark.org.
Cancellation Information:
Parties must be cancelled at least one week in advance so the space can be made available for other parties.
If the party is cancelled within the required time frame, the party can be rescheduled for a later available date and use the deposit applied,
or a refund can be issued.
No credits or exchanges are available if cancellation is made within a week of the party date.
How it Works:
You may bring your own food and drinks to the party room.
Tables & chairs are included.
No food is permitted in the pool or surrounding areas.
A refrigerator is available for storing food if needed and is available only during the rental time.
The party room may be decorated with any non-permanent fixtures.
Party is required to vacate at the conclusion.
There will be 15 minutes allotted at the beginning of the party for set-up and at the end for allow time to properly dispose of all trash and return the room to its pre-party condition.
Alcohol is strictly prohibited.
Parents and participants should be aware of all pool rules before entering the pool area.
Children under the age of 3 years old must be accompanied by an adult.
Children who are not yet toilet trained must wear a reusable or disposable diaper; no regular diapers are permitted in the pool.